Hope in salvation. Hope in God's grace. Hope in His wisdom. We live hopeful lives!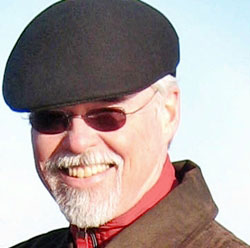 Dan Doyle
The following is the first in a three part series from contributing writing, Dan Doyle. Check back for parts two and three in the days to come.
Hope, The Virtue
There is nothing more basic to our human experience. It is innate to our nature. For Christians it is the desire for heaven and eternal life that moves us to prayer and to a life of service.
We have been given reason to hope in the Incarnation of Jesus. We can place our hope in His promises. We can live with the knowledge that we do not have to count solely on our own strength, but that we will be supported, encouraged and strengthened by the Holy Spirit. "Let us hold fast the confession of our hope without wavering, for he who promised is faithful." (Hebrews 10:23)
This movement of hope that arises in our spirits is a response to the natural aspirations for happiness that we all have in our hearts. This virtue of hope inspires our activities and purifies them so that they will be ordered toward the Kingdom of God.
Hope also keeps us from falling into discouragement. If we have hope we can endure the times when we feel abandoned, because we believe in the ultimate acceptance that awaits us, an eternity of happiness in the presence of God.
One of the great things about this virtue of hope is that it preserves us from selfishness and leads us to the real kind of decisions and actions that are rooted in love, in an outgoing charity for others. Why? Because our hope leads us to believe in the future, not just any future, but a future that can be better than the present.
We have our models of hope that we can look to as well. Abraham is an example of one whose whole life was driven by hope. When he was told to leave Ur, to pick up his family and go out into the wilderness, promised by God that he would be settled in a land of milk and honey, he did it, without hesitation. When he was told to take his son up the mountain to sacrifice him to the Lord, he did it, because he had hope in God's will and God's knowledge were beyond him. He believed in the goodness of God as well as the greatness, so he did what he was told. And God rewarded his hope with the life of his son and a further promise of Abraham's future, that he would be the father of many nations. And so it has happened. We have reason to hope. Always.
In the teachings of Jesus we have further reason to hope. In the Sermon on the Mount we are given the promises that our hope is rooted in. The beatitudes raise our hope toward Heaven. They show us that the path is through the trials of Jesus and his sacrifice on our behalf. "Hope is the sure and steadfast anchor of the soul…that enters…where Jesus has gone as a forerunner on our behalf." (Hebrews 6: 19-20) Hope is the helmet of our armor. (1 Thessalonians: 5:8)
Our hope, then, is both expressed and nourished in our prayer, especially in the Our Father, which is the summary of everything that hope leads us to desire. We can hope joyfully in the glory of heaven promised by God to all those who love him and do his will.
Hope in the love of God, the Mercy of Jesus, and the empowerment of the Holy Spirit will not go unrewarded. If you are moved to prayer it is because of the hope that has been planted in your heart. Pray then and be at peace.
SKM: below-content placeholder
Whizzco for FHB