Therefore God has highly exalted him and bestowed on him the name that is above every name, so that at the name of Jesus every knee should bow, in heaven and on earth and under the earth, and every tongue confess that Jesus Christ is Lord, to the glory of God the Father. Philippians 2:9-11
What is in a name? Each person's name is unique and each person wants his or her name to be respected and treated with dignity. A person's name is to be honored, protected, valued. It's why God commanded us to not bear false witness, and chiefly, to honor His name.
We can see this idea expressed very powerfully in Arthur Miller's classic play The Crucible, exploring persecution through the Salem witch trials of the 1690s. In the play's final act, John Proctor sits in a jail cell awaiting his execution. Many have already been hanged, Proctor's wife is accused, and John himself faces the charge. He is presented with an opportunity to gain his freedom by signing a confession that he is a witch. There's just one problem: it is a lie.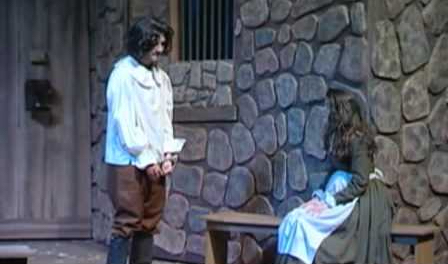 In the end he refuses to sign, even though it means his certain death. When asked why he won't sign he answers:
Because it is my name! Because I cannot have another in my life! Because I lie and sign myself to lies! Because I am not worth the dust on the feet of them who hang! How may I live without my name? I have given you my soul; leave me my name.
Indeed, we all have a name, a name that alone is ours, it is our reputation, in the end, all that we have left. No name is greater than our own, and no name is worse – for they are names, which we value.
Well, there is one name that is like no other, that is higher than any other name, that has within it the entire past, present, and future of all of creation. That name is the name, Jesus.
In Hebrew, the name Jesus conveys the idea that God saves, as the Angel told Jospeh: "You shall call His name Jesus, for He will save His people from their sins" (Matthew 1:21). We call him the Christ, the anointed one, the Hebrew "Messiah." But what does that kind of name mean? What does it do. Jesus Himself gives us a powerful message about the power of his name when he tells us: "Whatever you ask in my name, this I will do, that the Father may be glorified in the Son" (Jn. 14:13).
Jesus also has a distinctive title, one that reveals who he is in a very powerful and meaningful way: "the Lamb of God," for Jewish ears at the time of Christ, would have been understood very differently than the way a modern city dweller might understand it today. Today, we might think that the image of a lamb implies that Jesus is innocent," "kind," and "gentle." He is all of this, but to the Jewish listener, and to Christians, that lamb is the sacrifice, without blemish, echoing Old Testament prophets.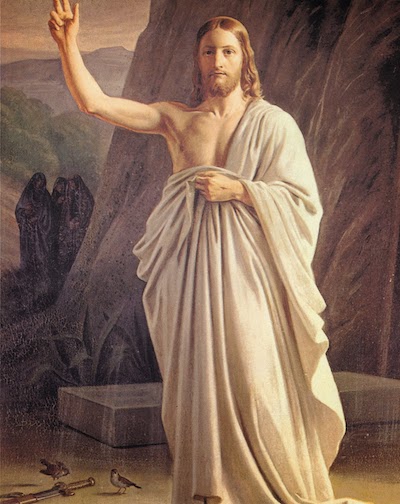 In this name, then, resides all the power and glory of God. Do not the Scriptures tell us that, "Whatever you ask in my name, this I will do, that the Father may be glorified in it" (Jn 14:13)? This is the power that dwells in the name of Jesus. That it is used today in the manner of an expletive, or a curse, or simply as a throw-away expression of surprise, is a great sin indeed.
This is why the name of Jesus Christ should never be spoken in vain. It is not a throw-away word. It is the name through which all things, visible and invisible, came to be. It is in and through the person of Jesus Christ that we have been given the unimaginable and underserved gift of salvation. Jesus Christ is the name that reveals the power and the glory of God to us. It is the power of true love given to us magnanimously from the Father, through his Son, by the Holy Spirit. At the sound of this name, every knee will one day bend in the heavens, on the earth, and under the earth in perfect humility, and every tongue will cry out with joy, "Jesus Christ is Lord" (Phil 2:11)! Let us who are living today honor the name of Jesus with our lives. Let us speak this name in the manner that befits it, with awed respect in the light of our faith.
SKM: below-content placeholder
Whizzco for FHB