The hardest thing for me was not Ariana, it was me. Am I a strong enough person? Will I be a good enough mom? And then I finally said stop. We planned and prayed for Ariana, and she is what I wanted, exactly as she is. I just didn't know that at the time.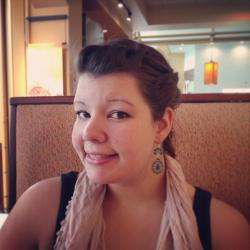 Jessica Griggs

Behold, children are a heritage from the Lord, the fruit of the womb a reward. Like arrows in the hand of a warrior are the children of one's youth. Blessed is the man who fills his quiver with them! – Psalm 127:3-5
Meet Ariana, better known as "Squishy." Squishy has a fabulous smile, bright, innocent eyes, and sass for days. She also has Down Syndrome. And over 4,000 followers on Instagram.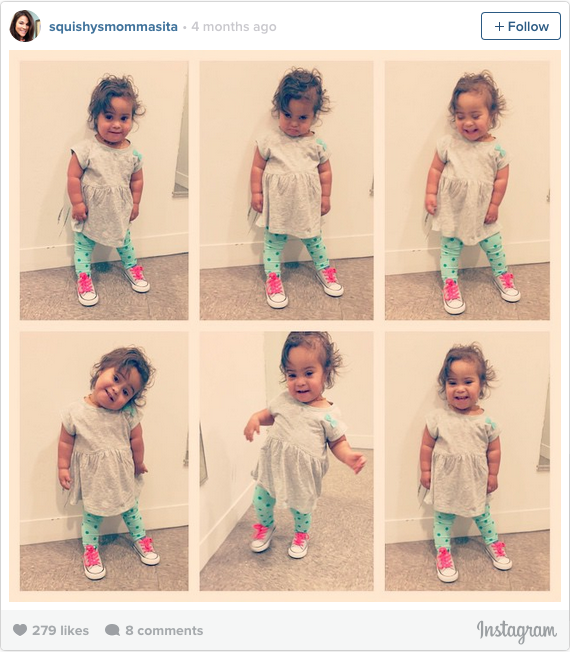 Andrea, Squishy's proud mother, told the story behind Squishy's unusual nickname in a recent interviewwith Huffington Post. Andrea said a few days after they got the prenatal diagnosis, she was crying and watching Finding Nemo. "There's a part of the movie when Dory comes across this tiny, innocent jellyfish and says, I shall call him Squishy and he shall be mine. Right at that moment Ariana kicked me, and I felt like she was telling me, It's OK, Mommy. It's all going to be OK — I shall be yours. I started to enjoy my pregnancy again and I nicknamed her Squishy… It stuck!"
Andrea recalls when she and her husband first got the diagnosis. Her husband was in basic training at the time, and they actually didn't get to see each other until a week after Squishy was born. "I had no idea what my daughter having Down syndrome meant. What it meant for her future — for our future. I'm embarrassed to admit that at the time I had never even met anyone with DS. Would my daughter fall in love? Would she be able to have those mother-daughter talks with me like I do with my mother? Will she be happy? I had never felt so alone, so I drove myself to research."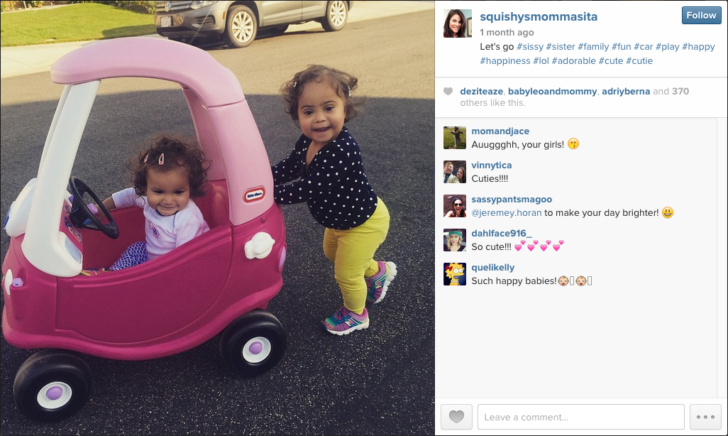 The Instagram account,
@squishysmommasita
, was started to show the world how her family deals with the joys and the struggles of being a parent. In most of the photos, Squishy is never far from her sidekick – baby sister Kiki. These two go on some crazy adventures, and the response on social media shows just how much we all crave vulnerability and a genuine smile on the internet.
[content-ad-vert-2 align="left"]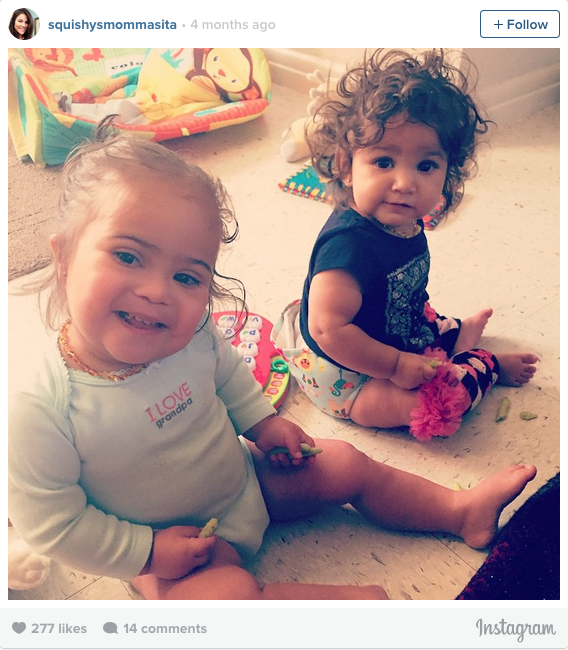 Andrea has these insightful and encouraging words for all parents out there, "The hardest thing for me was not Ariana, it was me. Am I a strong enough person? Will I be a good enough mom? And then I finally said stop. We planned and prayed for Ariana, and she is what I wanted, exactly as she is. I just didn't know that at the time."
SKM: below-content placeholder
Whizzco for FHB