Wardrobe must-haves for summer!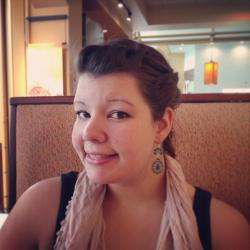 Jessica Griggs
Just because we're getting older doesn't mean we can't follow fashion trends! Sure, the days of the mini skirt may be over, but there are lots of ways to keep up with the times while looking gorgeous and aging gracefully.
Before we look at outfits, let's go over sizes. The most important thing to keep in mind when looking at clothes is how they fit. Lots of women wear a size too small or too large. The next time you're out shopping, try a size smaller and a size larger. You might be surprised at what you discover!
Fitted Jeans With a Loose Top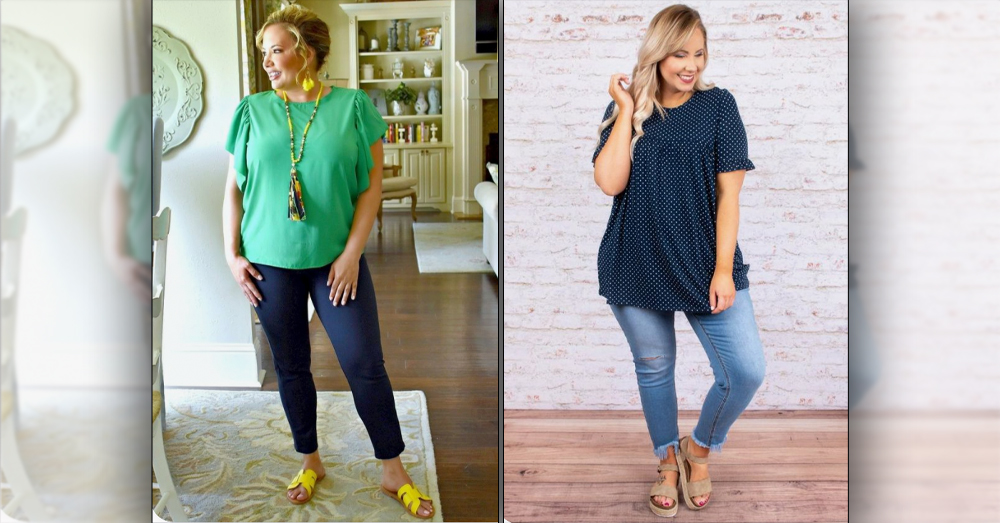 Some people think "women of a certain age" shouldn't wear jeans. I'm here to tell you that's a lie! Jeans are a staple in lots of outfits and you have every right to incorporate them into your wardrobe. Stick with the classics – fitted jeans, straight-legged jeans, and jeans with a mid-rise or high-rise waistline. You can go darker for classier outfits and lighter for casual outfits.
Once you have your jean situation under control, it's time to pick out a cute loose top! A silk blouse looks great with dark wash jeans for a classy look. You can also dress this outfit down with lighter jeans and a tunic top.
Midi Skirt & Fitted Top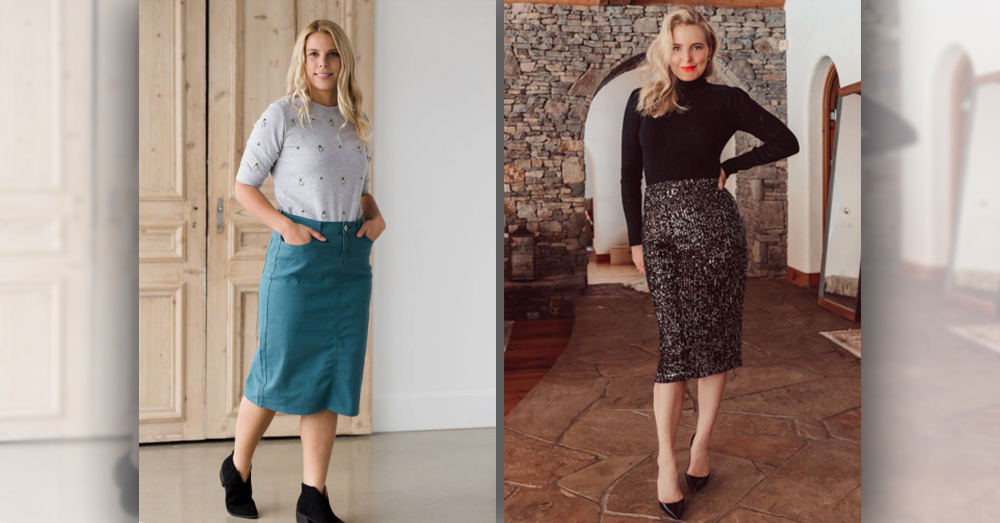 Everyone should own a few midi skirts! These are fitted skirts that hit mid-calf. There are so many ways to dress midi skirts up or down, depending on the occasion. As you can see in the photo above, you can pair your skirt with a fitted top or blouse and some heels and have a professional look or a dressy look. Conversely, jean midi skirts are back in style and offer a more casual option.
Pleated Skirt & Casual Top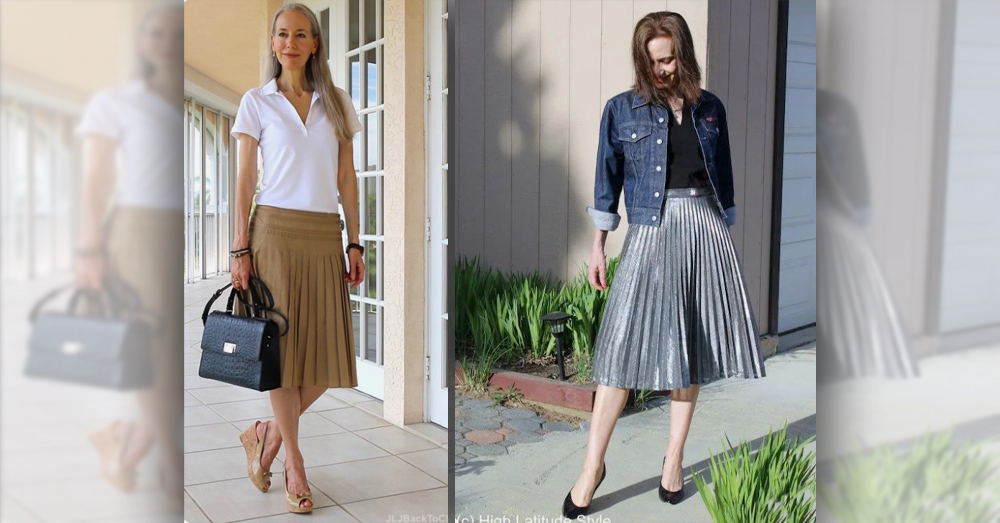 Here's another skirt everyone should have a few of. The pleated skirt is so classy and is flattering on pretty much any body type. If you're stuck in an outfit rut, try out a few pleated skirt outfits! I love the examples in the photo above. Yes, you can wear a blouse with pleated skirts to dress them up, but I love seeing pleated skirts paired with casual tops. Even a jean jacket works, as you can see.
Fitted Jeans & Drape Cardigan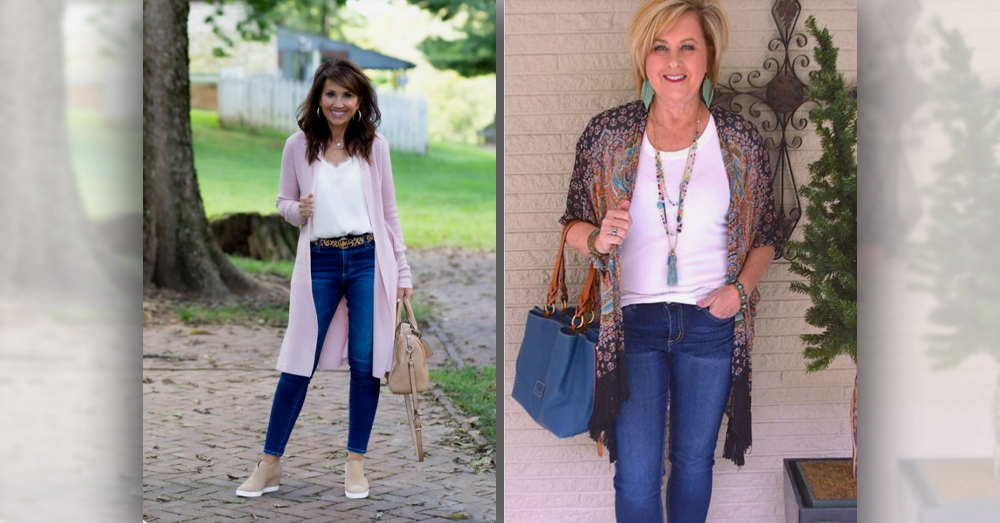 I own several drape cardigans and let me tell you, I wear them often! This is another clothing item that is so versatile! Grab a cable knit cardigan for a cozy look in the winter and fall, or a sheer drape for the warmer months. I love the sheer drape for summer, especially for those of us who prefer to cover up our arms but still want to stay cool.
Wide-Legged Pans & Loose Top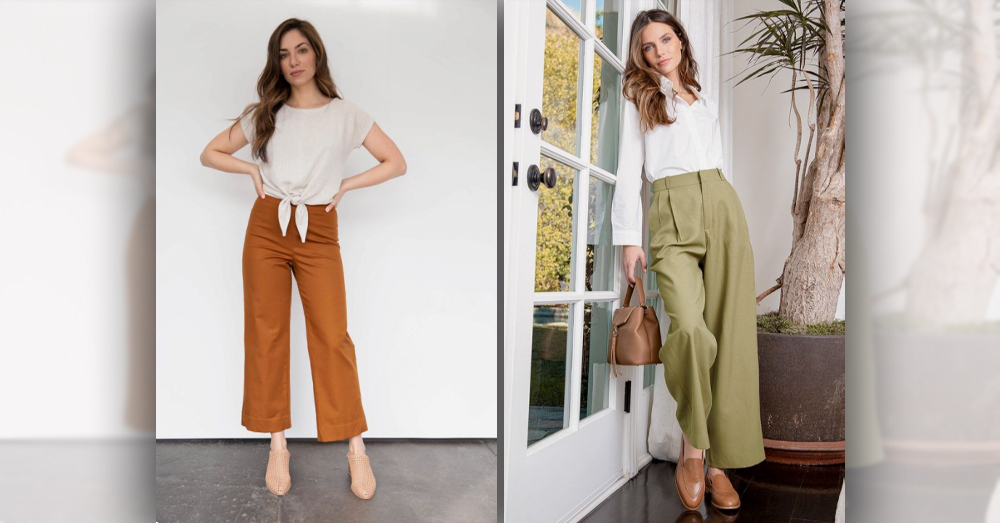 You may be skeptical of wide-legged pants, but you needn't be. These pants are actually quite flattering for most body types. Again, you can dress them up or down depending on the occasion. Loose tops work as well as fitted tops. Pair with heeled booties, wedges, or flats!
I hope you found a few outfit ideas!