Do we believe that God made us in love, that he loves us even though we are sinners? Do we believe that he loves us enough not only to save us, but to give us his law to guide us at all times?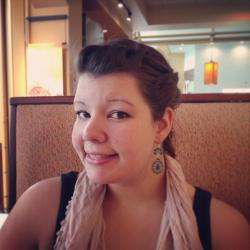 Jessica Griggs

Psalm 119 is the longest psalm in the Book of Psalms. It is a powerful meditation on the gift of God's law. It expresses the full range of human emotions and desires that are challenged, disciplined and saved through adherence to God's law. It is written in the acrostic form, that is, each stanza appears in the order of the Hebrew alphabet. This passage today comes from the stanza, Daleth.
This psalm praises God for giving his law to us as a perfect guide for how to live a good life. It recognizes that living in accord with God's law is to live well, seeking all that is really good, avoiding all that is evil. It recognizes that God's law is a protection from that which is evil and destructive to ourselves and others. It is a map that leads us on a path of righteousness in this life. Fidelity to God's law is our life long goal and yet we recognize, as the psalmist does, that we are weak. So we seek both God's mercy and his wisdom to understand his precepts. And it recognizes God's love and that he desires to encourage and to support us in our efforts, and that he will enlighten all who seek to do his will.
The psalm recognizes free will as well. For, as we see in today's passage, that the psalmist says, "I have chosen the way of faithfulness." While God offers us his mercy and encouragement willingly, and never withdraws it from us, we must choose to turn to it in humility and willingness. We must bend our all too often prideful wills to God's will, and willingly submit to his law for us. Only God is perfect in Goodness. In our ignorance and pride, we often demand the power to choose what we think is right and good for us. But our vision of what is really good for us, and what merely "appears" to be good, is often clouded by base desires, or selfish concerns. The Evil One uses these weaknesses to turn us off the path of righteousness. How are we to follow God's law then?
We are to study God's law in the Scriptures and to meditate on it, day and night. Just as the psalmist did. We are to practice it until it becomes habit. It is not easy. When we fall, we are to trust in God and believe in his mercy. We are to examine our motives in all things. Does our present desire conform to God's law, or not? Do we make a habit of considering and understanding the consequences (real and potential) of our actions? Do we understand that we are not "victims" of outside forces; that it is we who decide and act? Or, do we "blame" others, or those outside forces, for our failures? In other words, do we really believe that God made us free? Do we really believe in God's mercy and in his grace? Do we believe that God made us in love, that he loves us even though we are sinners? Do we believe that he loves us enough not only to save us, but to give us his law to guide us at all times? Because God made us free we can choose to honor that freedom by choosing to know and to follow God's precepts willingly, or we can choose to defy God by distorting our freedom. "See, I set before you life and death; choose life." (Deuteronomy 30:19) God's law is life.
Lord, strengthen us to know, to understand, and to willingly choose to obey your law more each day. Help us to see the wisdom that it is in obeying your law that our freedom is increased and our joy is fulfilled. God, we pray for this grace of humility. It is in you alone that we find the joy that we most dearly seek. We pray these things in the name of Jesus. Amen!
Want more daily devotionals, inspirational verses, and Bible reading plans? Just choose a plan and sign up for a free eBible account. It's that simple! CLICK HERE!
SKM: below-content placeholder
Whizzco for FHB