As Christians, we too know that God is with us. But we know it in a way that our spiritual ancestors could not.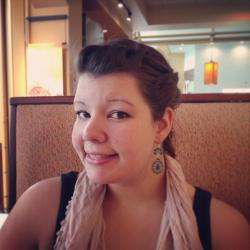 Jessica Griggs

Emmanuel! God is with us! For those who believe, this statement of faith is the source of our greatest comfort. For David, this faith in God's presence was a source of security in the midst of a sea of troubles. The Israelites could look back and see the presence of God revealed in majesty on Mt. Sinai, in their liberation from slavery in Egypt, in the parting of the Red Sea, in the cloud that guided them by day, and in the pillar of fire that guided them through the darkest nights. They experienced it in the giving of manna in the desert, and so much more. The majesty of God was everywhere for those who had eyes to see.
As Christians, we too know that God is with us. But we know it in a way that our spiritual ancestors could not. His presence was made intimately visible to us in Jesus Christ. His presence became tangible to us, enfleshed. We saw in Jesus the depth of God's desire for us to know that he was present to us in all things, intimately. Jesus showed us that God desired to be with us personally, despite our sins. By the grace of his incarnation, we have seen the depth of his love for us.
In Jesus, God walked our journey with us. He suffered what we suffer in all things but sin. He knew the depths of sorrow that we can know. He lost his earthly father, Joseph, and his dear friend, Lazarus, to death. He experienced the pain of rejection and misunderstanding. He knew physical pain in his passion and death on the cross. He knew the gnawing pain of fear in the Garden of Gethsemane the night he was arrested. He took on all of this willingly, out of his unconditional love for us. And our God continues to walk with us in his Holy Spirit.
In the gift of faith, we know that we are never alone, that God is with us in all things, at all times, in all places. The Irish saint, Patrick, knew this constant presence and wrote wrote of it in the following prayer:
"Christ be with me.
Christ within me,
Christ behind me,
Christ before me,
Christ beside me,
Christ to win me,
Christ to comfort
And restore me.
Christ beneath me,
Christ above me,
Christ in quiet,
Christ in danger,
Christ in hearts
Of all that love him,
Christ in the mouth
Of friend and stranger."
Lord, help us to recognize your presence more each day. Help us to see you in the beauty of creation, in the goodness and kindness of those we love, and in the faces of every stranger. Let us honor your presence by living lives that honor your love for us. We pray these things in Jesus' name. Amen!
Want more daily devotionals, inspirational verses, and Bible reading plans? Just choose a plan and sign up for a free eBible account. It's that simple! CLICK HERE!
SKM: below-content placeholder
Whizzco for FHB