On my writing desk there are two pictures. They are the latest school pictures of my granddaughters. On the wall in front of my desk, I have taped two pictures that my wife took and printed off of our four grandchildren sitting on a bench together. They have their arms around each other and their faces are all lit with glorious smiles. Those faces are a living presence here in the quiet and solitude of my little home office. Each time I look at them I am struck with joy and the immense wonder and mystery of God's inexpressible love.
Last month I entered my eighth decade of life on this earth. As is common with the awareness of one's mortality and the fact that there are more years behind one than before, one finds oneself reflecting more and more often on the meaning of life, and one's relationship to its divine Author. When they call me "Papa," I am constantly reminded in their innocence, their curiosity, their questions, and that I have a God-given role to play in their lives. I don't have the daily challenges and joys and occasional struggles that came with the daily duties and responsibilities of raising my two daughters. I am no longer caught up in the chaos of "learning as I go" so to speak. I am one of the elders now. My duties are to hand on the wisdoms I have learned over 70 years about life, love, religion and tradition. The Lord charges me now to give examples of righteous authority, that is, the kind of authority that comes from a modicum of wisdom. How am I to do this?
This role is different than the one I had with our children. My responsibilities are different now.
As Christian believers, that is, those who have heard the word of God and who practice it, we believe that God has given us the immense and generous gift of the Scriptures to help guide us through every stage of life, and to inform us as to our duties to one another in accord with his ways. This is why it is important for us to develop the habit of reading and praying over the Scriptures daily.
For example, in Psalm 37:25, we see these words, "I was young and now I am old, yet have I never seen the righteous forsaken or their children begging for bread." One who lives righteously in the ways of God does so in recognition of God's grace and generosity toward him. It is the means by which one who has personally come to know the love and mercy of God expresses thanks to God for his great generosity. And the righteous are recognized by their actions, not just their words.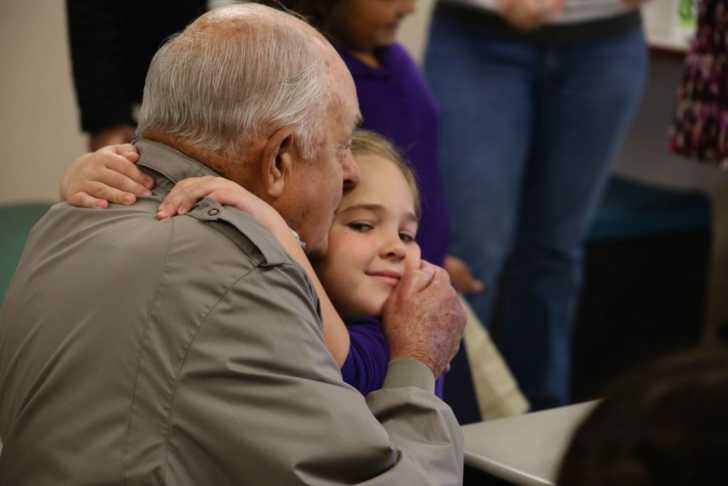 As a grandfather, I am challenged to live righteously, that is, out of the authority of love, care, compassion, concern and forgiveness. In doing so my grandchildren will learn to honor authority. My grandchildren will understand the righteousness of God when they see how I speak to and treat my children, their parents. In other words they must see the wisdom of God's love in my words and in my actions. I will admit that I am struck into awed silence within myself whenever I contemplate these things. I know I am flawed, that I have much yet to learn. In my 70th year on this planet, I know ever so much more my need for God's grace in all things. And I know that it is in him only that will I find the wisdom, the encouragement, the strength, and the desire to be his good and faithful servant to my grandchildren.
Because I have come to know the love, mercy and grace of God in my life, I understand the words of Proverbs more intimately now: "A cheerful heart is good medicine, but a crushed spirit dries up the bones." What could be a greater gift to our grandchildren than to see in us a cheerful heart. A heart that finds its cheerfulness in God is never crushed by the world's vagaries or deterred from love by the daily challenges of life. And God wants to touch the hearts and minds of our grandchildren through our own cheerful hearts. What could make a heart more cheerful than a personal relationship with God? Our grandchildren will be more open to hearing the word of God from us if they can literally see the joy that we experience in our own living and active relationship with God. They will see the nature of God more in our cheerfulness than in anything else.
Finally, in the Letter of Titus we get a good sense of how we are to conduct ourselves in the Christian way: "Teach older men to be temperate, worthy of respect, self-controlled, and sound in faith, in love and in endurance." If we are humble followers of Christ, wisdom does come to us with age. We learn that temperance is the virtue that leads to cheerfulness. Those who have developed the virtue of self-control and who then act in accord with the commandments, are worthy of respect. This is so because their actions toward others will quite literally express the love that God has for all of his children. One who has rooted his life in sound faith, will also be sound in love and patient endurance. Grandchildren need to see these things in us. This is how they will come to know, to love, and to serve God with their own lives.
When I look at those pictures every day, I am reminded of my love for them and my duties toward them. This is why I go to God in prayer every day. This is why I study the scriptures and try to practice the ways of God modeled for us in Christ Jesus. Yes, even though it is hard in an environment like our present cultural milieu where religion is ridiculed, and authority is scorned and traditions are frivolously tossed aside as obsolete. We Christian parents and grandparents are challenged to live the Gospel more today than ever before. "What, then, shall we say in response to these things? "If God is for us, who can be against us?" (Romans 8:31)
SKM: below-content placeholder
Whizzco for FHB